Media
July 26, 2021
We are delighted that both PUZZLES and Lewes Gourmet were included in a Delaware Today article showcasing local stores.
Shop Local at 10 Unique Boutiques at the Delaware Beaches (delawaretoday.com)
November 8, 2020
Lewes Gourmet and PUZZLES are again very happy to be part of a renewed local business community awareness campaign starting Tuesday November 10th 2020 to promote visiting Lewes and the Lewes Lights campaign – this time with a Holiday feel.  Come and visit us on the Canal at Front Street for some terrific seasonal fare, both to exercise your mind and to tickle your taste buds!
WBOC WRDE Lewes and Lewes Lights Holiday 2020 Commercial with Lewes Gourmet and PUZZLES
August 26, 2020
Lewes Gourmet (and PUZZLES too!) participated in a local retail business community awareness campaign to promote visiting Lewes. We hope you enjoy! (…THRILLED that they never even suggested we use sub-titles!!)
July 15, 2020
Lewes Gourmet and PUZZLES support local nonprofits
https://www.capegazette.com/article/lewes-gourmet-and-puzzles-support-local-nonprofits/205146
September 30, 2019
WBOC Delmarva Life Small Town Series featuring Lewes:

Link to Lewes segment —

Link to Lewes Gourmet/PUZZLES specific segment–
August 8, 2019
https://www.capegazette.com/article/lewes-design-supports-history-landmarks-and-nonprofits/186177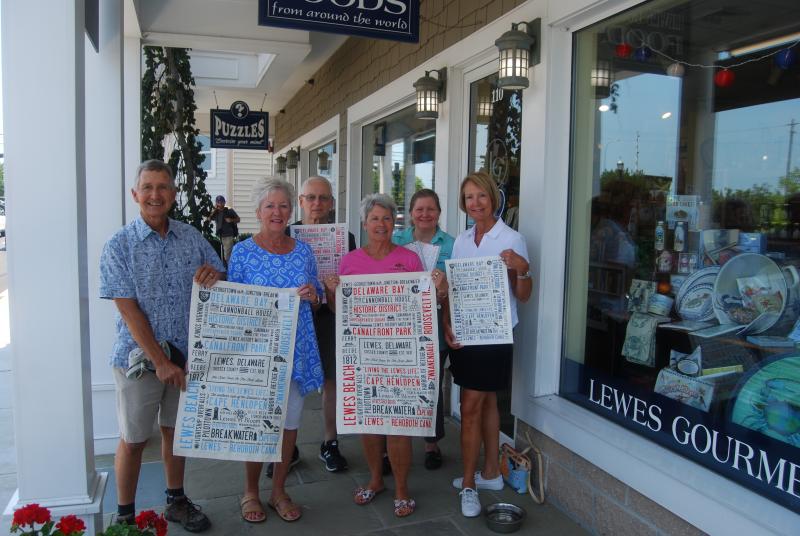 July 26, 2018
UD Students work to eliminate plastic bags: Businesses for Better Bags initiative underway in Lewes
https://www.capegazette.com/article/ud-students-work-eliminate-plastic-bags/161143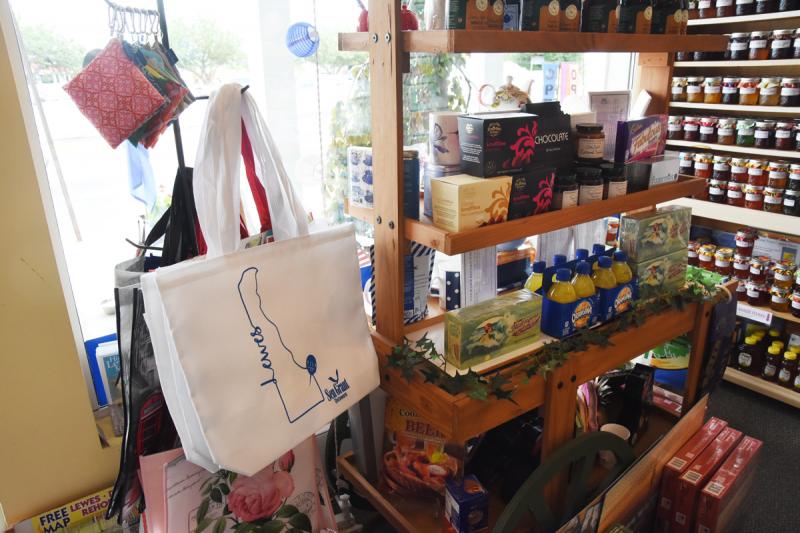 Lewes Gourmet offers mug and teas to support local nonprofits
February 14, 2018
Lewes Gourmet teas can be gift packaged in this Lewes-crested, limited-edition British porcelain mug. SUBMITTED PHOTO
Locally owned Lewes Gourmet, located on the canal at Front Street, has produced a range of nine high-quality teas that promote and champion iconic Lewes landmarks and beloved Lewes nonprofits.
http://www.capegazette.com/article/lewes-gourmet-offers-mug-and-teas-support-local-nonprofits/151088
WRDE Live at Lewes Gourmet December 2017 to showcase products
Letters to the Editor
Shop, eat and fish in Lewes during construction
Andrea Spuck and Tim Southerst
October 12, 2017
http://www.capegazette.com/article/shop-eat-and-fish-lewes-during-construction/143844
Kalmar Nyckel ends Lewes season by graduating a local crew of volunteers
Markell designates it 'Delaware's Tall Ship;
While completing training in Lewes, volunteers had the option to live aboard ship or commute if local. Shown in back (l-r) Tim Southerst, Lewes; Katia Sol-Church, Wilmington; William Ryan, Bethany Beach and Wilmington; Bart Physioc, Annapolis, Md.; Andrew Lyter, Lewes. In the middle, Ken Boone, Baltimore, Md.; Barry Birney, Ocean View and Garnet Valley, Pa.; Frank Cebula, Lewes; Ron Parks, Rehoboth and Harrisburg, Pa.; and Andrea Spuck, Lewes; In front. Claire Benesh, Lewisberry, Pa.; Shore and Relief Captain Sharon Dounce, Wilmington; Second Mate Hailee Grimes, Florida; Ship's Master, Captain Lauren Morgens, Wilmington; First Mate and Engineer Matt Rajkovich, Wilmington and Baltimore, Md. SUBMITTED PHOTO
September 11, 2016
The Kalmar Nyckel wrapped up its 2016 August Summer Season in Lewes soon after graduating its 38th class of new volunteers. Coming from all walks of life and experience, bringing a variety of skills, these 11 men and women join approximately 300 others who can "Weather Clew, Sheet Home" and "Heave Around the Halyard."
http://www.capegazette.com/article/kalmar-nyckel-ends-lewes-season-graduating-local-crew-volunteers/115444
Coastal Cuisine: Lewes Gourmet and The Spice & Tea Exchange with Michael Sprouse
https://www.youtube.com/watch?v=mrGhnYNjM8c
PUZZLES and Lewes Gourmet owners celebrate anniversary with ribbon cutting
Shown are in back (l-r) Lou Braithwaite, Gavin Braithwaite, Lewes Mayor Ted Becker and Lewes Deputy Mayor Fred Beaufait. In the second row are Betsy Reamer, Lewes Chamber; Judy Doyle, employee; Sarah Smith, employee; and Rob Morgan, Lewes City Council. In front are Alexandra Southerst, John Southerst, Tim Southerst, Andrea Spuck and Elizabeth Southerst. SUBMITTED PHOTO
July 10, 2016
Tim Southerst and Andrea Spuck assumed ownership of PUZZLES and Lewes Gourmet on the canal at 108 and 110 Front St. in Lewes June 30, 2015. They celebrated the one-year anniversary with a ribbon cutting with family, store colleagues, city officials and previous owners Gavin and Lou Braithwaite. The Braithwaites actively assisted the Southerst family as they transitioned into the world of retail ownership and Lewes life over the past year.
http://www.capegazette.com/article/puzzles-and-lewes-gourmet-owners-celebrate-anniversary-ribbon-cutting/110816
Beacon Middle School students make science connections
November 2, 2015
Beacon Middle School students John Southerst, left, and Owen Smith applied science class lessons in their real lives. SOURCE SUBMITTED
School is a great place to make connections. That's what's happening in Beacon Middle School's sixth-grade science class. Across the curriculum, students are making connections in classes to help them comprehend the material by relating it to real-life situations.
    Lewes Gourmet's Iron Fish helps Beacon Middle School Students make science connections!
http://www.capegazette.com/node/92404
Delaware Today – Best of Delaware – Best Gourmet To Go 2016 
http://www.delawaretoday.com/Delaware-Today/Best-Of/Best-Gourmet-to-Go/
Saltwater Portrait
Andrea Spuck and Tim Southerst: World travelers set roots in Lewes
Community spirit sold owners of Puzzles and Lewes Gourmet
Tim Southerst and Andrea Spuck took their family to Lewes Castle, Sussex, England, during a trip over spring break. Shown are (l-r) Tim Southerst, Andrea Spuck, John Southerst, Elizabeth Southerst and Alexandra Southerst. BY NICK ROTH
Nick Roth
May 17, 2016
Lewes Gourmet features many hard-to-find treats from around the world. BY NICK ROTH
You'd be hard pressed to find a store with a more eclectic selection of worldly items. BY NICK ROTH
BY NICK ROTH
There's no place like home, and Andrea Spuck and Tim Southerst didn't quite know what home felt like until they found Lewes.
The owners of Puzzles and Lewes Gourmet on Front Street have lived all over the world, including England, Amsterdam, Belgium, Germany and across the United States. But none of those places had the same feeling as Lewes.
http://www.capegazette.com/article/andrea-spuck-and-tim-southerst-world-travelers-set-roots-lewes/103909
Lewes shop owners embarking on retirement
Braithwaites reminisce about their decades downtown; stores to remain open
Betty Fleming
July 25, 2014
Gavin and Lou Braithwaite stand in front of one of their downtown Lewes shops, Lewes Gourmet.  The couple plan to sell the stores and retire. SOURCE SUBMITTED
Gavin and Lou Braithwaite are not just well-known, established shop owners in downtown Lewes. They are active, involved citizens.
http://www.capegazette.com/article/lewes-shop-owners-embarking-retirement/69237
Delaware Today – Best of Delaware – Best Gourmet to Go 2012; Best Gourmet Grocer 2008 & 2007
http://www.delawaretoday.com/Delaware-Today/Delaware-Resources/Best-of-Delaware/index.php/name/Lewes-Gourmet/listing/23494/